SecureTheVillage — Upcoming Conference
Cybersecure SoCal 2019. Cybersecurity is a Team Sport.
Cybersecure SoCal 2019 Cybersecurity is a Team Sport!
… a joint presentation of SecureTheVillage and the Pepperdine Graziadio Business School's CyRP Program
I hear and I forget. I see and I remember. I do and I understand. … Confucius
Join us at Cybersecure SoCal 2019, a curated learn-by-doing educational event in support of a Cybersecure Southern California.
Keynote Speaker: Ron Ross, Fellow at the National Institute of Standards and Technology. His focus areas include cybersecurity, systems security engineering, and risk management.
October 17 8:00 am – 3:30 pm
October Webinar Posted
Securing the Network—Lessons Learned From Cyber Investigations. Visibility. Visibility. Visibility.
Host: Stan Stahl, Ph.D., SecureTheVillage Founder and President
Stan's Guest: Joe Greenfield: Managing Director and Chief Forensic Examiner, Maryman & Associates; Associate Professor, USC Viterbi
Webinar Outline
Visibility: What it is
Case Studies in Visibility: The Good. The Bad. And the Ugly
Getting Visible
Testing Your Visibility
Individuals at Risk
Cyber Privacy
How to Set Your Google Data to Self-Destruct: Google has now given us an option to set search and location data to automatically disappear after a certain time. We should all use it. The New York Times, October 2, 2019
Cyber Danger
Major Google Android bug lets hackers gain full control over some of the world's most popular phones. 100,000,000 smartphones said to be at risk: Some of the world's most popular smartphones are vulnerable to a major security vulnerability that allows attackers to fully takeover the handsets, researchers warn. Newsweek, October 5, 2019
WhatsApp vulnerability could compromise Android smartphones: A researcher has released details of a WhatsApp remote code execution (RCE) flaw it is claimed could be used to compromise not only the app but the mobile device the app is running on. NakedSecurity, October 4, 2019
The New Unpatchable iPhone Exploit That Allows Permanent Jailbreak Is a Game-Changer for Mobile Security: Apple's handling of device security has always been one of the company's strongest selling points. A new iPhone exploit that allows anyone with physical access to a phone to permanently jailbreak it has changed everything. While the exploit does not compromise Apple's most recent phones (or likely any going forward), all existing devices from 2011's iPhone 4S to the more recent iPhone X are now permanently vulnerable and can only be fixed by returning the device to Apple for a hardware adjustment. All of the iPads are vulnerable, including the one just released last week, along with nearly all of the Apple TV models. CPO, October 4, 2019
Cyber Update
Windows out-of-band update: Microsoft's mandatory security patch is for all versions: Microsoft finally releases IE 0-day patch via Windows Update, also solving printing issues caused by original fix. ZDNet, October 4, 2019
Cyber Defense
Buying a new laptop? Here's how to secure it: October is National Cybersecurity Awareness Month (NCSAM) and this year's theme of 'Own IT. Secure. IT. Protect IT.' aims to encourage personal accountability for security. Computer security is a broad and complex subject but the truth is that criminals like low-hanging fruit and getting the basics right affords you an awful lot of protection. NakedSecurity, October 4, 2019
"Words with Friends" user? Change your password after data breach. Remember: Passwords need to be long, complex, and unique: Around 200 million players of the popular Words With Friends and Draw Something games from Zynga have had their accounts' information stolen by "outside hackers," as the company describes. While your linked credit cards and any other methods you use to buy stuff within Zynga's games appears to be safe so far, your logins might have been compromised. LifeHacker, October 2, 2019
Cyber Humor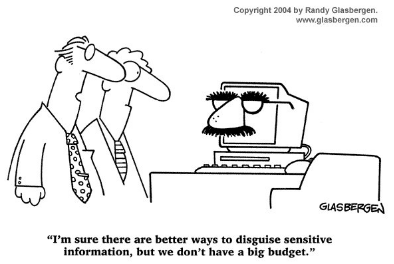 Information Security Management in the Organization
Information Security Management and Governance
What Indicators Can I Reference to Gauge My Organization's Security Posture?: Understanding an organization's security posture will help to create a clear and present representation of what the cybersecurity capabilities of your organization are. Any information security program is evaluated on the integrity, availability, and confidentiality of the data within a designated secured environment. Several indicators can help to gauge where your organization belongs within the risk management structure, which can help to identify your organization's security posture and what security challenges the business must confront. CPO, October 3, 2019
Survey of Risk Managers Suggests Ransomware Threat Broadening Perceptions of Cyber Risks. Increased Attention Being Given Protecting to Enterprises From Business Interruption: Corporate risk managers are increasingly focusing on protecting their enterprises from business interruption after a series of ransomware attacks on government agencies highlighted the peril of losing access to their computer networks, according to a survey released by Zurich Insurance and Advisen on Thursday. ClaimsJournal, October 3, 2019
10 Cybersecurity Myths That Criminals Love: Amid the complexity of cybersecurity and the secrecy of criminal hackers, security threats have acquired an aura of mysticism, giving rise to enduring legends, rumors, misperceptions and outright myths. In the cybersecurity space, these myths are almost always damaging. Watching from the murky underworld, attackers can find the people and businesses that believe these myths, then they strike. SecurityBoulevard, October 3, 2019
Cybersecurity in the C-Suite
Marsh-Microsoft Survey: Business Leaders Spend Less Than a Day Per Year Focusing on Cyber Risk: Despite all the attention that cyber threats and cyber attacks get in the mainstream media, top business leaders and executives are still not paying enough attention to cyber risk. That's the big takeaway from a new report from Marsh and Microsoft ("2019 Global Cyber Risk Perception Survey") that surveyed more than 1,500 global organizations about cyber risk management practices. In fact, only 17% of C-suite or board members who are responsible for cyber risk management spend more than a few days per year focusing on cyber risk. And more than half (51%) of those responsible for cyber risk management spend less than a day per year focusing on cyber risk issues. CPO, October 2, 2019
Cyber Warning
Is Your IT Vendor / MSP Putting You in Danger? … 'Pandemic Crisis' Of MSP Ransomware Attacks Will Grow In 2020, Experts Say: Despite a bruising year for MSPs, ransomware attacks against solution providers, their tools and their customers, are only expected to grow in 2020, leading cybersecurity experts said. CRN, October 4, 2019
Cyber Defense
Microsoft will continue providing Windows 7 security updates for SMBs … for a fee, of course: According to the latest Alert Logic's research, most devices in small and midsize businesses (SMBs) run Windows versions that are expired or are about to expire soon. HelpNetSecurity, October 3, 2019
FBI Warns of High-Impact Ransomware Attacks Threaten U.S. Businesses And Organizations; Provides Recommendations: This Public Service Announcement (PSA) is an update and companion to Ransomware PSA I-091516-PSA posted on www.ic3.gov. This PSA contains updated information about the ransomware threat. FBI, October 2, 2019
Secure The Human
How to protect your organization against insider threats: Whether intentionally or unintentionally, employees can pose a significant security risk to company data, according to a new report from data protection firm Code42. TechRepublic, October 3, 2019
Inside Cybersecurity: The Vulnerabilities and Opportunities – KWHS: A while back Phalguni Miraj, a high school sophomore in New Jersey, was working on a school assignment in Google Drive. When he logged in, he was redirected to random tabs urging him to click in exchange for financial rewards. Miraj immediately closed the tabs, but wondered what had lurked behind them. "I was curious about how I could protect my computer's security and the information stored in it. However, I still felt vulnerable," he says. KWHS, October 2, 2019
Why Humans Are a Growing Target for Cyberattacks — And What to Do About It: Let's talk about the "people problem." Cybersecurity defenses and cyberattack methods are evolving rapidly, but human beings, not so much. This is why nearly all cyberattacks are now based on exploiting human nature. SecurityIntelligence, October 2, 2019
Cyber Talent
10 Do's and Don'ts for Writing a Winning Cybersecurity Resume: Is a cybersecurity degree worth it? The answer is yes, but it also depends on who's asking. Higher education could be a profitable pathway, especially if you're already a student. However, school isn't the only way to get your foot in the door. You can land a job in cybersecurity with a curious mindset and a solid cybersecurity resume. SecurityIntelligence, October 4, 2019
Teen Hackers Try to Convince Parents They Are Up to Good: The first rule of hack club is: You talk about hack club. The second rule of hack club is: You talk about hack club. MSN, October 4, 2019
DHS official: Lack of cyber talent is a "national security threat": One of the most senior officials tasked with protecting U.S. critical infrastructure says that the lack of security professionals in the U.S. is one of the leading threats to national cybersecurity. Techcrunch, October 3, 2019
Cybersecurity in Society
National Cybersecurity Awareness Month
Own IT. Secure IT. Protect IT. … October is National Cybersecurity Awareness Month: Internet-enabled crimes and cyber intrusions are becoming increasingly sophisticated and preventing them requires each and every user of a connected device to be aware and on guard. FBI, October 1, 2019
Cyber Privacy
A Race to the Bottom of Privacy Protection: The US-UK Deal Would Trample Cross Border Privacy Safeguards: Last year, we warned that the passage of the Clarifying Lawful Overseas Use of Data (CLOUD) Act would weaken global privacy standards, opening up the possibility of more permissive wiretapping and data collection laws. Today's announcement of the U.S.-UK Agreement is the first step in a multi-country effort to chip away at privacy protections in favor of law enforcement expediency. EFF, October 4, 2019
Cyber Crime
Hackers Use Botnet to Launch Widespread Phishing Attack on Crypto Wallets: With millions of dollars of cryptocurrency stolen from crypto wallets every year, security researchers were surprised to find one active botnet being sold for about $160. Coindesk, October 3, 2019
Fraudsters Used AI to Mimic CEO's Voice in Unusual Cybercrime Case: Criminals used artificial intelligence-based software to impersonate a chief executive's voice and demand a fraudulent transfer of €220,000 ($243,000) in March in what cybercrime experts described as an unusual case of artificial intelligence being used in hacking. Wall Street Journal, August 30, 2019
Cyber Freedom
How I Helped Hack Democracy … From the book MINDF*CK: Cambridge Analytica and the Plot to Break America, by Christopher Wylie: At first, it was the most anticlimactic project launch in history. Nothing happened. Five, ten, fifteen minutes went by, and people started shuffling around in anticipation. "What the f-ck is this?" Cambridge Analytica's CEO, Alexander Nix, barked. "Why are we standing here?" Intelligencer, October 4, 2019
Iranian Hackers Target Trump Campaign as Threats to 2020 Mount: The 2020 presidential election is still 13 months away, but already Iranians are following in the footsteps of Russia and have begun cyberattacks aimed at disrupting the campaigns. The New York Times, October 4, 2019
FBI investigating alleged hacking attempt into mobile voting app during 2018 midterms: (CNN)The FBI is investigating after someone allegedly tried to hack into West Virginia's mobile voting app during the 2018 midterm elections. CNN, October 1, 2019
Critical Infrastructure
Attacks on Multiple Airbus Suppliers Demonstrate a Need for Renewed Focus on Supply Chain Cyber Security: The supply chain has become one of the most popular vectors for attackers looking to compromise an enterprise-scale company. Vendors often have access to the company's sensitive data, or have enough access to their network to provide an opening that allows for privilege escalation. European aerospace company Airbus has found itself on the receiving end of a particularly large coordinated attack on its vendors over the past 12 months. With evidence pointing to a nation-state attacker, this case demonstrates why it is necessary for smaller companies to take supply chain cyber security just as seriously as their larger partners. CPO, October 4, 2019
Cyber Enforcement
Mariposa Botnet Author, Darkcode Crime Forum Admin Arrested in Germany: A Slovenian man convicted of authoring the destructive and once-prolific Mariposa botnet and running the infamous Darkode cybercrime forum has been arrested in Germany on request from prosecutors in the United States, who've recently re-indicted him on related charges. KrebsOnSecurity, October 1, 2019
German Cops Raid "Cyberbunker 2.0," Arrest 7 in Child Porn, Dark Web Market Sting: German authorities said Friday they'd arrested seven people and were investigating six more in connection with the raid of a Dark Web hosting operation that allegedly supported multiple child porn, cybercrime and drug markets with hundreds of servers buried inside a heavily fortified military bunker. Incredibly, for at least two of the men accused in the scheme, this was their second bunker-based hosting business that was raided by cops and shut down for courting and supporting illegal activity online. KrebsOnSecurity, September 28, 2019
SecureTheVillage Calendar — Register Now
Financial Services Cybersecurity Roundtable – October 2019
Title: Recent Trends in Financial and Electronic Crimes … And How the Secret Service Can Help.
Speaker:  Deronda Dubose, Special Agent, Technical Staff Assistance. United States Secret Service.
October 11 @ 8:00 am – 10:00 am
Cybersecure SoCal 2019 Cybersecurity is a Team Sport!
… a joint presentation of SecureTheVillage and the Pepperdine Graziadio Business School's CyRP Program
Keynote Speaker: Ron Ross, Fellow at the National Institute of Standards and Technology. His focus areas include cybersecurity, systems security engineering, and risk management.
October 17 8:00 am – 3:30 pm