SecureTheVillage — Upcoming Conference
Cybersecure SoCal 2019. Cybersecurity is a Team Sport.
Cybersecure SoCal 2019 Cybersecurity is a Team Sport!
… a joint presentation of SecureTheVillage and the Pepperdine Graziadio Business School's CyRP Program
I hear and I forget. I see and I remember. I do and I understand. … Confucius
Join us at Cybersecure SoCal 2019, a curated learn-by-doing educational event in support of a Cybersecure Southern California.
Keynote Speaker: Ron Ross, Fellow at the National Institute of Standards and Technology. His focus areas include cybersecurity, systems security engineering, and risk management.
October 17 8:00 am – 3:30 pm
Secure the Village
President Stan Stahl discusses Cybersecure SoCal 2019 Conference on Sunday Morning Newsmakers with Larry Marino. Cybersecure SoCal 2019 is October 17 at Pepperdine WLA Campus. Find out more and register at http://www.SecureTheVillage.org: Stan Stahl, leads, Secure the Village, a cyber-security educational non-profit, President CEO Citadel Information Group — October is Cybersecurity Awareness Month. We discuss how to protect yourself from cyber threats and an upcoming workshop for businesses to learn first-hand. Sunday Morning Newsmakers, October 6, 2019
National Cybersecurity Awareness Month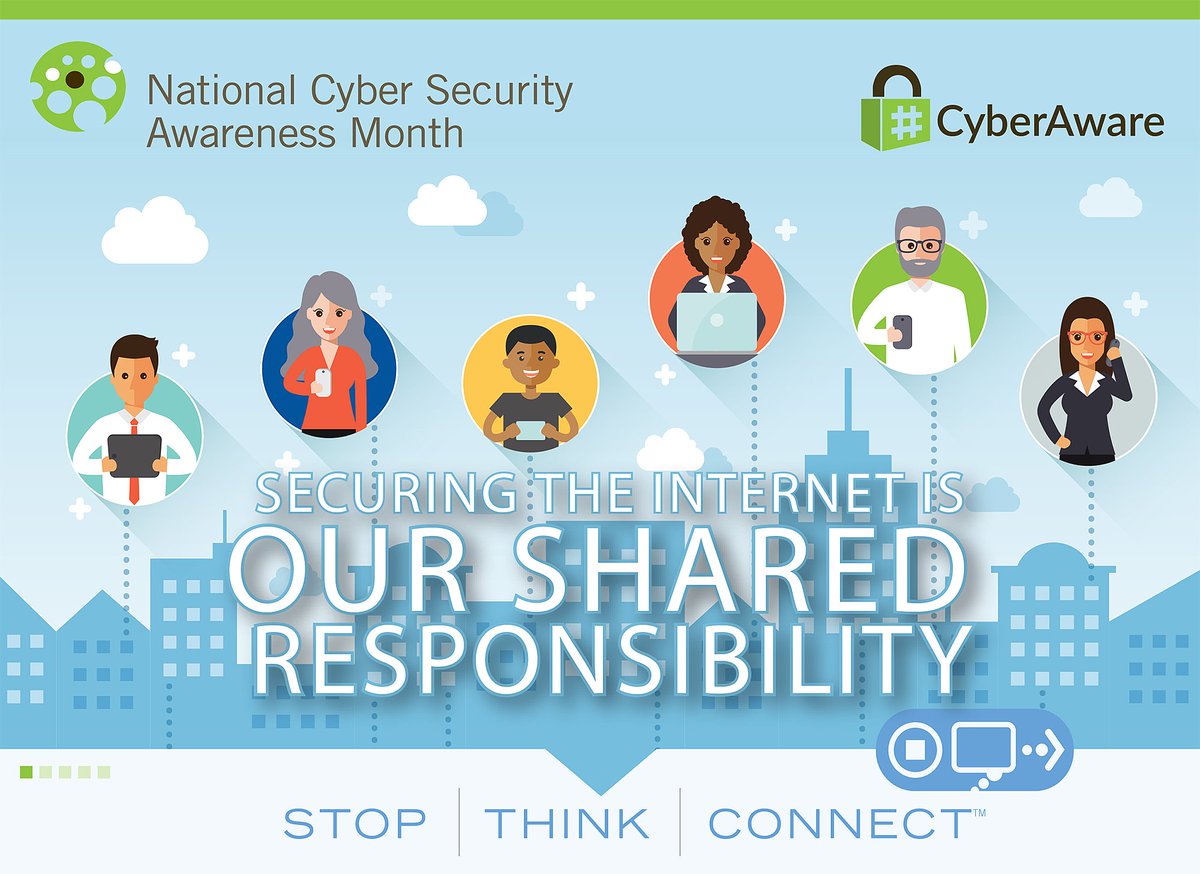 "You are wholly responsible for your personal cybersecurity." This article provides a good review of all the daily tasks we perform that puts our cybersecurity at risk, things we all need to pay attention to if we're to protect our organizations, our family, and our nation. PaymentsJournal, October 11, 2019
Be a #CyberGuardian at work and home. Ben Franklin said "Distrust & caution are the parents of security." Ben was cyber bomb!!! Follow SecureTheVillage.
Individuals at Risk
Update Now
Attackers Are Exploiting an Apple iTunes Zero-Day to Install Ransomware. Users Who May Have Uninstalled iTunes Also at Risk: A zero-day vulnerability in Apple iTunes for Windows enabled attackers to bypass antivirus detection on Windows devices. The targeted BitPaymer or IEncrypt ransomware campaign was detected by the security folks at Morphisec who called the iTunes exploit a "new and alarming evasion technique." WCCF Tech, October 11, 2019
Cyber Privacy
A Chrome security setting you shouldn't overlook: One of Chrome's most important options is out of sight and all too easy to miss. ComputerWorld, October 1, 2019
Cyber Danger
Clone or Swap? SIM Card Vulnerabilities to Reckon With: The most commonly used computer platform nowadays is no longer a desktop or a laptop — it's a phone. According to Bank My Cell, as of August 2019, there are more than 5 billion mobile devices worldwide. A staggering 67 percent of the population has some kind of mobile device, and research suggests the average person spends five hours a day on their phone — about a third of the time the average person is awake. It's no wonder attackers are targeting the mobile phone market. SecurityIntelligence, October 7, 2019
Cyber Update
Patch Tuesday Lowdown, October 2019 Edition: On Tuesday Microsoft issued software updates to fix almost five dozen security problems in Windows and software designed to run on top of it. By most accounts, it's a relatively light patch batch this month. Here's a look at the highlights. KrebsOnSecurity, October 9, 2019
Secure The Human
Most Americans Fail Cybersecurity Quiz: Study participants fail to correctly identify core security concepts and tools to help them stay safe online. ThreatPost, October 9, 2019
Cyber Humor
Information Security Management in the Organization
Information Security Management and Governance
The Standard Cybersecurity Model Is Fundamentally Broken. … As evidence mounts that cybercriminals can't be kept out, organizations must up their ability to detect, respond, and recover from intrusions: Every year companies around the world invest hundreds of billions of dollars in cybersecurity products, services, and training—yet malware compromise and massive data breaches are still a regular occurrence. According to data from Cybersecurity Ventures, cybersecurity spending for the five years leading up to 2021 is expected to exceed $1 trillion—with a "T"—but the annual global losses from cyber attacks is expected to hit $6 trillion by the same year. Clearly, there is something fundamentally wrong with the standard model of cybersecurity. Forbes, October 7, 2019

Preparing for a ransomware attack. Key things to think about: In the last five years, ransomware attacks have become more common. Consider two well-publicized examples: the Baltimore infection incident in May that cost the city $18 million and, in August, an attack on 23 Texas cities and government agencies that targeted computer systems across the state. Forbes, October 11, 2019

Europol reports that phishing and remote desktop attacks are primary infection route for malware. It's through often inadequate vulnerability and patch management practices that malware takes control: The 'wiper' ransomware used in state-backed attacks like NotPetya is gaining ground among cyber criminals, warns EU law enforcement annual cybercrime report. ZDNet, October 10, 2019
SMB Considerations When Facing a Third-Party Security Assessment: Outsourcing by companies has been an area of growth for many years, and the trend does not seem to be slowing down. For example, Gartner is forecasting a 17 percent growth in public cloud use worldwide in 2019. Leading the way is infrastructure-as-a-service or (IaaS) with an expected 27 percent growth alone. SecurityIntelligence, August 22, 2019 … Being assessed by a customer? Contact Citadel for Information Peace of Mind ®.

Cybersecurity in the C-Suite
Why a Cybersecurity Assessment Needs to Be Part of Your M&A Due Diligence Checklist: Mergers and acquisitions (M&As) are a critical part of doing business in our modern, hypercompetitive world. Of all the factors that go into the valuation of a deal, cybersecurity occupies a prime place of importance. Ignoring it is a recipe for disaster. SecurityIntelligence, October 8. 2019 … Planning a merger? Contact Citadel for Information Peace of Mind ®.
Cyber Warning
Ransomware hacks soar, says Chubb. Professional service firms hit hard. Companies being attacked through their IT vendors & Managed Service Providers: Ransomware attacks in the first half of this year exceeded the total reported for all of 2018, Chubb Ltd. said in a report on its claims activity issued Friday. Business Insurance, October 11, 2019 … Is your IT vendor's security putting you at risk? Citadel can find out.
Cyber Attacks on SMBs Are Once Again on the Rise, According to New Ponemon Report: There has been an upward trend in cyber attacks on small-to-medium size businesses (SMBs) for some years now. Slowly but surely, SMBs have found themselves on a roughly equal footing with their larger counterparts in terms of likelihood of experiencing an attack. CPO, October 11, 2019
Business Email Compromise Attacks Spike 269%. Defense strategy 1: Always get voice confirmation before wiring money. Defense strategy 2: Put FBI phone number on speed dial: A new Mimecast report finds a significant uptick in BEC attacks, malware attachments, and spam landing in target inboxes. DarkReading, October 8, 2019
FBI Private Industry Notification: Cyber Criminals Use Social Engineering and Technical Attacks to Circumvent Multi-Factor Authentication: The following information is being provided by the FBI, with no guarantees or warranties, for potential use at the sole discretion of recipients to protect against cyber threats. This data is
administrators guard against the persistent malicious actions of cyber criminals. FBI, September 17, 2019
Cyber Defense
11 steps organizations should take to improve their incident response strategy: As the year draws to a close, it is time for businesses across all industries and sectors to reflect and prepare for the upcoming new year. With this in mind, FIRST has produced 11 vital steps that organizations should take to improve their incident response strategy. HelpNetSecurity, October 10, 2019
Cyber Lawsuit
Hacked Off: Lawsuit Alleges CafePress Used Poor Security. 23 Million Victims Across US, UK, EU and Australia Receive Breach Notifications: CafePress has been hit with a lawsuit alleging that it failed to notify customers about a massive data breach in a timely manner. The Louisville, Kentucky-based personalized product retailer sells custom T-shirts and a variety of other printed materials. BankInfoSecurity, October 11, 2019
Cyber Insurance
Cyber Insurance Will Reshape Cybersecurity: Cybersecurity is broken. It's a bold statement, but given the increasing frequency of cyber breaches, along with the presence of more varied and evolving threats, there is growing uncertainty about the ability of the cybersecurity industry to protect its customers. There is virtually no company that isn't a potential target. From mom-and-pop storefronts to Fortune 500 companies, no business is immune to cyber risk. Even with the best possible cybersecurity posture, there is always a threat of a breach. InsuranceJournal, October 11, 2019
Cyber Talent
How Cybersecurity Salaries Fit Experience and Specialization: Not too long ago, there was a one-size-fits-all assumption about cybersecurity jobs. The security professional was hired to manage security systems and read logs — maybe handle audits and ensure industry compliance. SecurityIntellignce, October 11, 2019
Cybersecurity in Society
Cyber Privacy
The unlikely activist behind the nation's toughest privacy law isn't done yet: Alastair Mactaggart's push for a groundbreaking privacy law was conceived in the bathroom. CNN, October 10, 2019
Cyber Crime
Singaporean Cryptocurrency Thief Charged with Fraud After Racking Up $5 Million AWS, Google Cloud Bill:A Singaporean has been indicted in the U.S. on charges of stealing cloud computing power on Amazon Web Services (AWS) and Google to mine cryptocurrency. CCN, October 10, 2019
Know Your Enemy
Over 18,000 Websites Infested With Magecart Card Skimming Malware: Magecart is one of the most widely-distributed pieces of malware in the world. It's been stealing credit cards for nearly a decade. Experts at RiskIQ they they've spotted Magecart skimmers in action more than 2 million times. Forbes, October 11, 2019
National Cybersecurity
Nation-State Hackers Greatest Threat to 5G Networks: Report: Nation-state attackers from outside the European Union pose the greatest threat to the continent's upcoming rollout of 5G networks, according to a security assessment conducted by the European Commission and the European Agency for Cybersecurity. BankInfoSecurity, October 11, 2019
Cyber Freedom
U.S. Presidential Campaigns Struggle With Cybersecurity. Sixteen of the 23 politicians running for president in 2020 have weak online privacy statements and security protections, a new report shows: MORE THAN THREE YEARS after media reports disclosed hackers were interfering in the 2016 U.S. presidential race to influence voters, most of the country's candidates in the 2020 presidential election are struggling with cybersecurity issues, according to a nonpartisan group focused on internet standards. US News and World Report, October 11, 2019
Cyber Law
CA Attorney General issues draft #CCPA data privacy rules: California Attorney General Xavier Becerra released a series of draft regulations Thursday aimed at getting businesses to comply with the state's landmark data privacy law, scheduled to take effect Jan. 1. San Fransico Chronicle, October 10, 2019
Text of CA Attorney General #CCPA draft privacy regulations.
Cyber Survaillence
Cities Examine Proper—and Improper—Uses of Facial Recognition. From New York City to Portland, Oregon, officials consider regulating how government and private businesses deploy the technology: When longtime resident Christina Zhang tried to enter her apartment building in Manhattan's Lower East Side neighborhood Saturday afternoon, she found herself enacting an all-too-familiar routine. The door wouldn't open, so she began "dancing" around the lobby, bobbing and weaving her body to and fro. Wired, October 11, 2018
Chinese citizens will soon need to scan their face before they can access internet services or get a new phone number: Chinese citizens will soon have to start using facial identification in order to sign up for internet services or get a new mobile number. Business Insider, October 10, 2019
SecureTheVillage Calendar — Register Now
Cybersecure SoCal 2019 Cybersecurity is a Team Sport!
… a joint presentation of SecureTheVillage and the Pepperdine Graziadio Business School's CyRP Program
Keynote Speaker: Ron Ross, Fellow at the National Institute of Standards and Technology. His focus areas include cybersecurity, systems security engineering, and risk management.
October 17 8:00 am – 3:30 pm