SecureTheVillage
Plain Speaking on Cybersecurity: A FREE Expert Panel Summertime Lunch Series from SecureTheVillage and the Los Angeles Cyber Lab.
July 24: Cyber Risk: The Cybercriminal Threat Landscape
August 7: Cyber Risk: The Cybersecurity and Cyber Privacy Legal Threat Landscape
August 28: SecuringTheHuman: Growing the Community
All events: 12:00 – 2:00. DTLA at the Law Offices of Buchalter. Lunch included.
Individuals at Risk
Cyber Privacy
Keep Firefox from leaking your data everywhere on the internet: It's time to start using Firefox's solid collection of content-blocking tools. CNet, July 12, 2019
Android Apps Are Collecting User Data Even After Being Denied Permission: Over 1,000 Android apps are harvesting your data without permission. TechWorm, July 11, 2019
Just because you're paranoid doesn't mean Google isn't listening to everything you say: Belgian journos find hundreds of recordings from so-called smart speakers triggered without command. The Register, July 11, 2019
Identity Theft
Synthetic identity theft is the fastest-growing financial crime in the U.S.: A new kind of identity theft that combines stolen personal data with fabricated information is on the rise, and it's helping more digital thieves ruin Americans' credit without fear of detection, according to a new white paper from the U.S. Federal Reserve. CyberScoop, July 10, 2019
Cyber Update
Zoom fixes webcam flaw for Macs, but security concerns linger: The desktop chat app firm this week came under fire for moving slowly to close a potential security flaw affecting macOS users. Computerworld, July 11, 2019
Mozilla Patches a 17-Year Old Flaw And Other Bugs With The Release Of Firefox 68: Mozilla Firefox users once again have to update their systems to the latest browser version. This week, carrying major security updates, Mozilla has rolled out their Firefox 68 browser version. This version not only brings security fixes but also blocks cryptominers and fingerprinters. Latest Hacking News, July 11, 2019
Patch Tuesday Lowdown, July 2019 Edition: Microsoft today released software updates to plug almost 80 security holes in its Windows operating systems and related software. Among them are fixes for two zero-day flaws that are actively being exploited in the wild, and patches to quash four other bugs that were publicly detailed prior to today, potentially giving attackers a head start in working out how to use them for nefarious purposes. KrebsOnSecurity, July 9, 2019
Cyber Defense
How to tell if any of your website passwords may have been hacked: If you're worried a password you use to log in to a site was leaked during a data breach, read about two websites and a Chrome extension that can alert you if this happens. TechRepublic, July 12, 2019
Cyber Warning
AN AMAZON PHISHING SCAM HITS JUST IN TIME FOR PRIME DAY: NEXT WEEK, AMAZON will celebrate Prime Day, a bacchanal of modestly discounted ephemera. But amid the flurry of cheap TVs and ebooks and what else, maybe Instant Pots? Watch out for this clever phishing campaign that might hit your inbox. Wired, July 12, 2019
Agent Smith malware hijacks legit apps on more than 25 million Android devices: THINK OF Agent Smith and you'll conjure up an image of Hugo Weaving's antagonist character in the Matrix series, not Android malware that has infected more than 25 million devices. The Inquirer, July 11, 2019
Know Your Enemy
Who's Behind the GandCrab Ransomware?: The crooks behind an affiliate program that paid cybercriminals to install the destructive and wildly successful GandCrab ransomware strain announced on May 31, 2019 they were terminating the program after allegedly having earned more than $2 billion in extortion payouts from victims. What follows is a deep dive into who may be responsible for recruiting new members to help spread the contagion. KrebsOnSecurity, July 8, 2019
Cyber Humor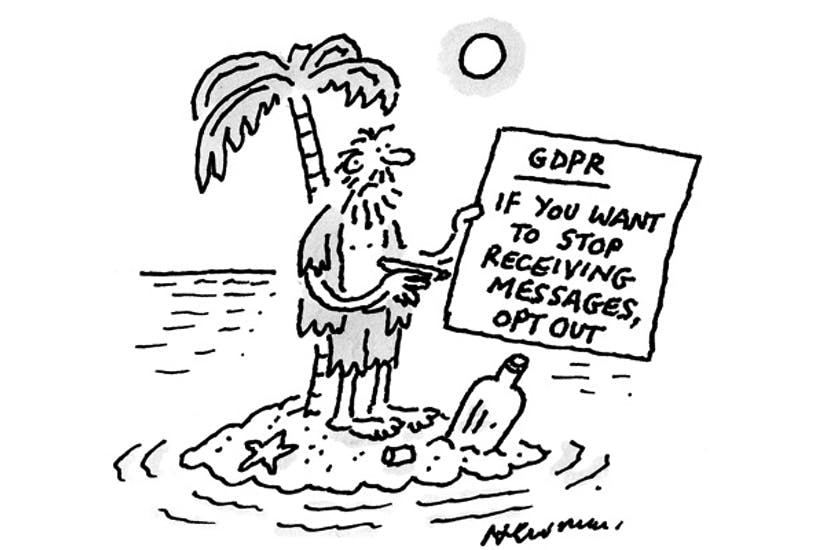 Information Security Management in the Organization
Information Security Management and Governance
How CISOs become business leaders: Security leaders need to master marketing, HR, business lingo and more to really help lead their organizations, says William Hill's group CISO. CSO, July 11, 2019
Cybersecurity is a team sport: If you are employed in cybersecurity, you've likely read an editorial telling you that the industry is broken. "Microsoft needs to get serious about cybersecurity," the writer opines. "Apple needs to get its act together," says another. "The real problem," yet another voice says, "is that developers across the entire industry don't pay attention to basic security protocols." VentureBeat, July 10, 2019
Cyber Defense
How To Reinforce Your Cybersecurity Strategy: We live in an information and data-led world, and cybersecurity must remain top-of-mind for any organization looking to both protect business operation critical assets. SecurityInformed, July 10, 2019
Cybersecurity: Malware lingers in SMBs for an average of 800 days before discovery: Small and medium-sized businesses lack the IT staff needed to run comprehensive security detection and response, according to Infocyte. TechRepublic, July 11, 2019
Secure The Human
Inside the NIST team working to make cybersecurity more user-friendly: Cybersecurity is usually not a user's primary duty, yet they suffer an increasing burden to respond to security warnings, maintain many complex passwords, and make security decisions for which they are not equipped. HelpNetSecurity, July 11, 2019
I'm a hacker, and here's how your social media posts help me break into your company: Stephanie "Snow" Carruthers, the chief people hacker at IBM X-Force Red, shows exactly how easily your innocent shares can give hackers the keys to your company's kingdom of data. Wired, July 10, 2019
Cyber Talent
Cybersecurity skills shortage prompts new hiring approach: Hiring managers are widening the pool of candidates in response to the cybersecurity skills shortage. Learn how a parks and recreation background can be an asset in threat hunting. SearchSecurity, July 12, 2019
Cybersecurity in Society
Cyber Surveillance
THE WINDOW TO REIN IN FACIAL RECOGNITION IS CLOSING: IN THE WAKE of jarring revelations about how United States law enforcement agencies have deployed facial recognition, Congress seemed, for a moment, galvanized to act. Based on a Homeland Security Committee hearing in the House Wednesday, that moment appears to be fading—as hundreds of local, state, and federal law enforcement officials continue to amass and access the controversial data every day. Wired, July 10, 2019
FBI, ICE find state driver's license photos are a gold mine for facial-recognition searches: A cache of records shared with The Washington Post reveals that agents are scanning millions of Americans' faces without their knowledge or consent. The Washington Post, July 7, 2019
Cyber Crime
Magecart Group Stealing Credit Card Data by Targeting Unsecured AWS S3 Buckets, According to RiskIQ: A cybercriminal gang associated with the umbrella organization known as Magecart has been inserting malicious JavaScript into unsecured Amazon Web Service S3 buckets to skim payment data, according to research published by RiskIQ Thursday. BankInfoSecurity, July 11, 2019
Cyber Freedom
FEC: Campaigns Can Use Discounted Cybersecurity Services: The U.S. Federal Election Commission (FEC) said today political campaigns can accept discounted cybersecurity services from companies without running afoul of existing campaign finance laws, provided those companies already do the same for other non-political entities. The decision comes amid much jostling on Capitol Hill over election security at the state level, and fresh warnings from U.S. intelligence agencies about impending cyber attacks targeting candidates in the lead up to the 2020 election. KrebsOnSecurity, July 11, 2019
Cyber Government
State CIOs endorse Senate bill to grow state and federal cybersecurity collaboration: A bill pending in the U.S. Senate would deliver state and local governments new and needed resources for cybersecurity, state chief information officers say. StateScoop, July 12, 2019
Mayors pass resolution against paying ransomware ransoms | StateScoop … The U.S. Conference of Mayors passed a resolution uniting its membership against paying ransoms to cyberattackers. But will it help?: Baltimore Mayor Jack Young announced on Wednesday that the U.S. Conference of Mayors has passed a resolution calling on cities not to pay ransom to hackers who have taken over government computer systems through cyberattacks. StateScoop, July 10, 2019
A City Paid a Hefty Ransom to Hackers. But Its Pains Are Far From Over: LAKE CITY, Fla. — Audrey Sikes, city clerk of Lake City, Fla., has a thing for documents: She does not like losing them. The New York Times, July 7, 2019
Cyber Fine
Facebook stock rises on rumors of $5 billion fine: The Federal Trade Commission has approved a $5 billion privacy settlement with Facebook (FB), major news outlets reported on Friday. The news hit near the end of stock market trading and lifted FB stock further into a buy zone. The deal, which still reportedly needs final approval from the Justice Department, reduces regulatory uncertainty for Facebook, which has faced calls for a breakup. Investors Business Daily, July 12, 2019
Marriott Faces $124M Fine for Massive Data Breach Under New GDPR Data Protection Rules: The massive hacking of Marriott International Inc. reservation databases could lead to a 99 million-pound ($124 million) fine as the U.K. cracked down on privacy breaches with its second major penalty notice in two days. InsuranceJournal, July 11, 2019
British Airways Faces Record-Setting $230 Million GDPR Fine: Britain's privacy watchdog has issued a "notice of intent" that it plans to fine British Airways £184 million ($230 million) for violating the EU's General Data Protection Regulation. GovInfoSecurity, July 8, 2019
The $5 billion fine Facebook expects to pay the FTC is a joke — on all of us: Facebook appears to be on the verge of making one of its biggest legal problems go away for what to it is little more than chump change. Business Insider, April 25, 2019
SecureTheVillage Calendar — Register Now
Plain Speaking on Cybersecurity Program 1: Cyber Risk: The Cybercriminal Threat Landscape
Los Angeles Cyber Lab / SecureTheVillage Summertime Lunch Series
July 24 @ 12:00 pm – 2:00 pm
Webinar: SecureTheVillage July Webinar: Cyber Risk Management
Panelists: Howard Miller, Charla Griffy-Brown
July 25 @ 10:00 am – 11:00 am
Cyber Crisis 
Stan Stahl, Ph.D., President Citadel Information Group and SecureTheVillage
Beverly Hills Rotary Club
July 22 @ 12:00 – 1:30
Cybersecurity for Nonprofits
Los Angeles Chamber of Commerce
July 30
Plain Speaking on Cybersecurity Program 2: Cyber Risk: The Cybersecurity and Cyber Privacy Legal Threat Landscape
Los Angeles Cyber Lab / SecureTheVillage Summertime Lunch Series
August 7 @ 12:00 pm – 2:00 pm
Financial Services Cybersecurity Roundtable
August 9 @ 8:00 am – 10:00 am
Plain Speaking on Cybersecurity Program 3: SecuringTheHuman: Growing the Community
Los Angeles Cyber Lab / SecureTheVillage Summertime Lunch Series
August 28 @ 12:00 pm – 2:00 pm
For the C-Suite: Managing Your Company's Information Security & Privacy Risk
Culver City Chamber of Commerce
August 29 @ 8:00 am – 11:30 am
Registration Opens Soon
Webinar: SecureTheVillage September Webinar
September 5 @ 10:00 am – 11:00 am
Security Summit 2019 … Connecting the Community
Los Angeles Cyber Lab
September 17 – 18
Webinar: SecureTheVillage October Webinar
October 3 @ 10:00 am – 11:00 am
Cybersecure SoCal 2019 Cybersecurity is a Team Sport!
… a joint presentation of SecureTheVillage and the Pepperdine Graziadio Business School's CyRP Program
Register Now: Early Bird Registration $99 through Aug 31
Keynote Speaker: Ron Ross, Fellow at the National Institute of Standards and Technology. His focus areas include cybersecurity, systems security engineering, and risk management.
October 17 8:00 am – 3:30 pm